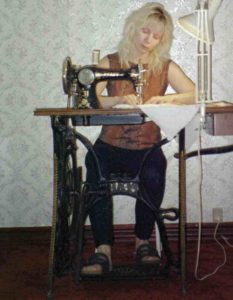 My method of machine embroidery is called Needle-brush painting. I did developed that from the old needlecraft by using old-fashionable sewing machine. Thank to the method I can create large pictures in one piece. Despite of the fact that I use some kind of machine for creating my pictures, I claim, that my artworks are pure hand-made unique samples. My machine does nothing without me. It has neither any computer program or even a banal Electric motor. There are my hands and feet which drive the machine under the process and my fancy and inspiration create the ideas and themes of the future pictures
Take a look in my galleries filled with beautiful and detailed needle brush art.

This method has partly been known during the last 150 years, when the first step sewing machines were invented, and the persons, who used them, found out, that it was possible not only to sew clothes by these machines, but also to make some embroideries. Unfortunately, the machine embroidering has never become just as popular as a hand stitch embroidery, and since the beginning of the 20th century, it became more and more neglected.
I also make digital graphic posters with different themes. See them here: Digital Posters
See slideshows with the posters on my YouTube channel HERE or HERE